School meals for 3,500 children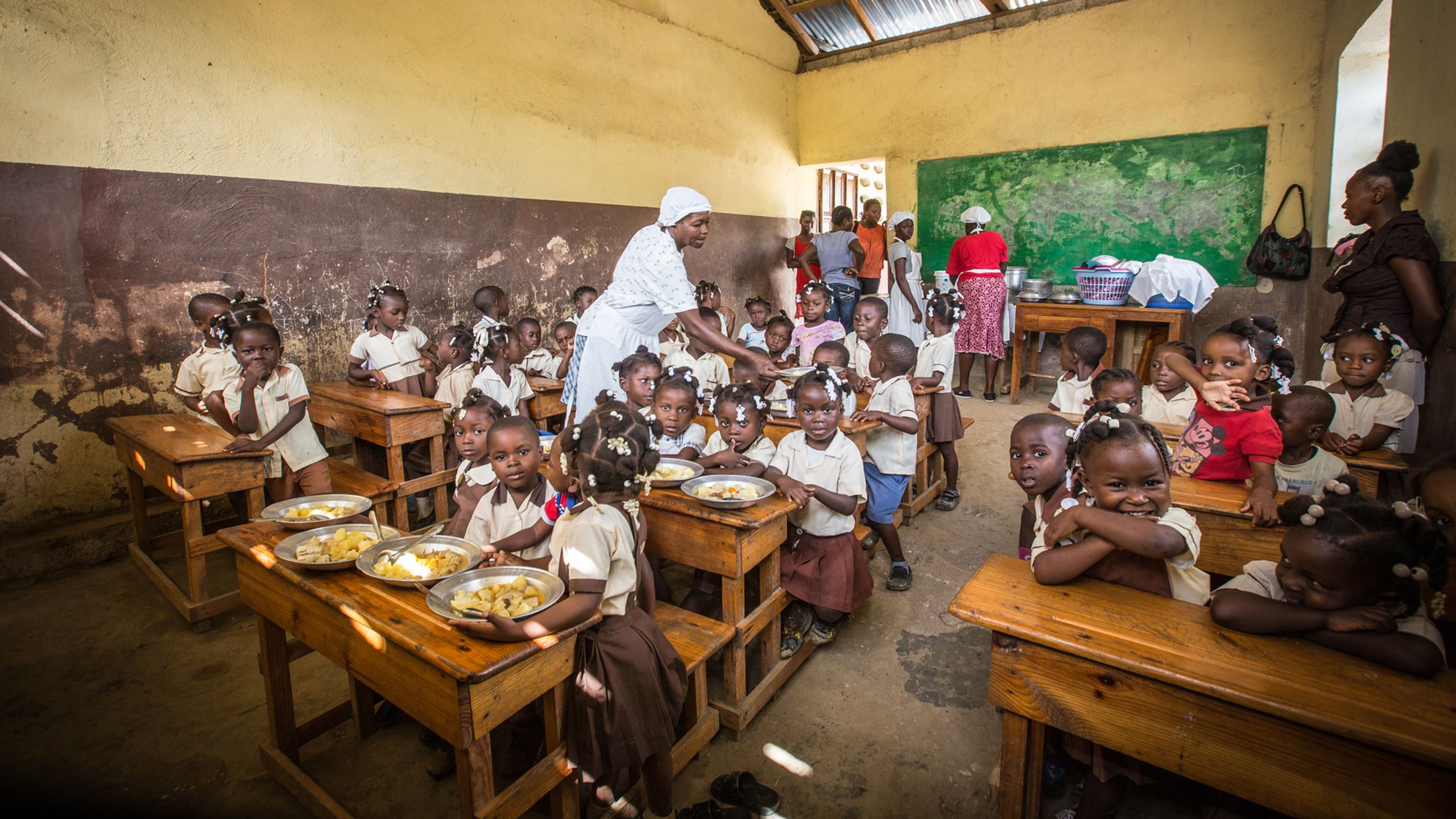 HEKS/EPER supports the people in Haiti's Grand'Anse in setting up a well-functioning school feeding that serves the entire region and provides 3,500 schoolchildren with two meals a day.
Two meals a day
In Dayer, a remote village in southwestern Haiti, Mamoun Pierre is busy at her wood-burning stove. She is preparing a meal of bananas, yams and sweet potatoes in a large cooking pot, accompanied by a sauce of dried fish, while her sister squeezes oranges. Meanwhile, a neighbor uses soap to wash the 50 tin plates and cups from which the students have already eaten their breakfast that morning. An hour later, all three - balancing their steaming pots and the table setting on their heads - will make their way to school.
For the teacher who welcomes them to his class of 50 students, the difference the three women make is clear: «When there was no canteen in Dayer, some children had hunger cramps so severe that they doubled over in their chairs in pain. Now they are much more focused and participate better in class.»
In a country where the majority of the country's population lives on less than two dollars a day, two balanced meals a day is a boon for the children and a relief for their families. «It's a real benefit to the community» says Romelus Jeansavon, a member of the canteen's board of directors, adding, «The kids now come on time so they don't miss breakfast!»
Advantages for the canteen operators
At 16 rural schools, 68 canteen operators like Mamoun have been employed so far. This is a participatory project: HEKS/EPER and its two partner organizations have set up kitchens with stone ovens and procured the necessary kitchen equipment. The women operators are responsible for the foundations, the installation of doors and windows and the construction of shelves. They are supported in this by the community. Another canteen operator, Mathulène Bélizé, explains how her work has changed her life: «I can pay for school for my children, I've been able to buy things I was missing, and on top of that, a goat.»
Mathulène also expressed satisfaction with her work in a canteen in the Abricots commune, where she spent a week learning how to compile and manage menus.
Familiarization with the activities, responsibility and accountability are important aspects. Each operator keeps her daily cash book, in which she enters all purchases for her preparations and the number of meals sold. Based on this information, it is possible to see whether they have made a profit or suffered a loss. «This issue is so important because HEKS/EPER will gradually reduce its support,» explains Estève Ustache who is the Project Coordinator.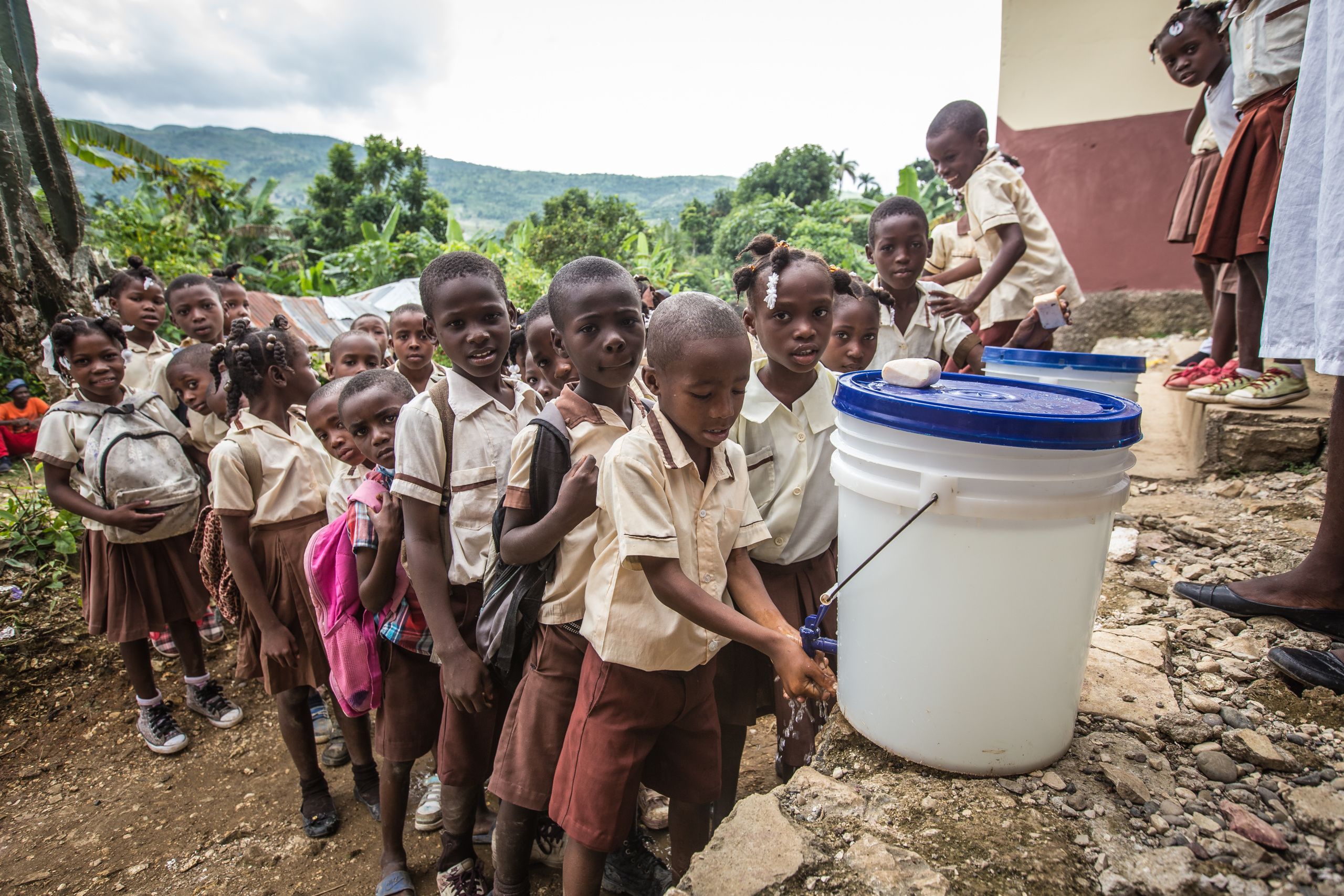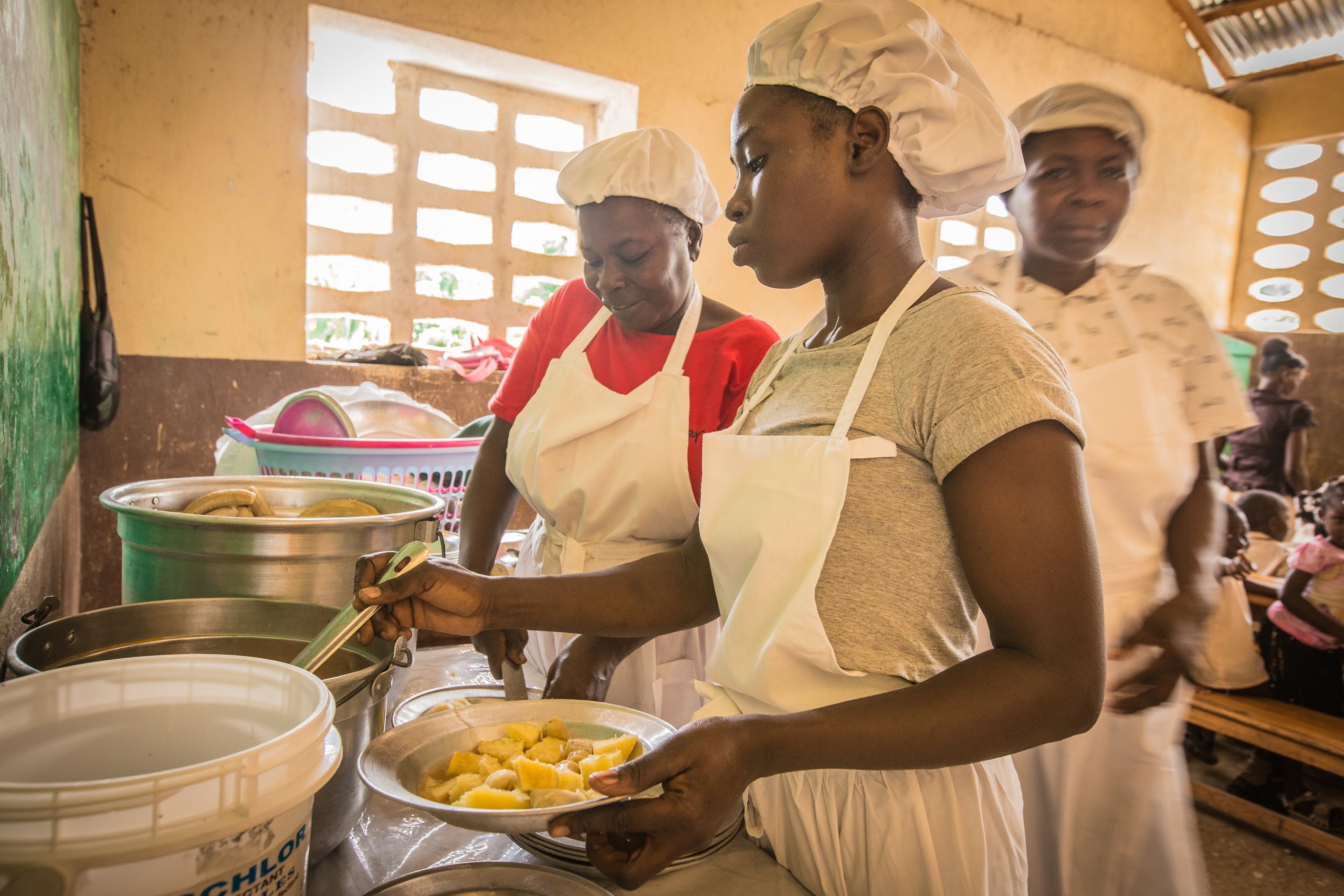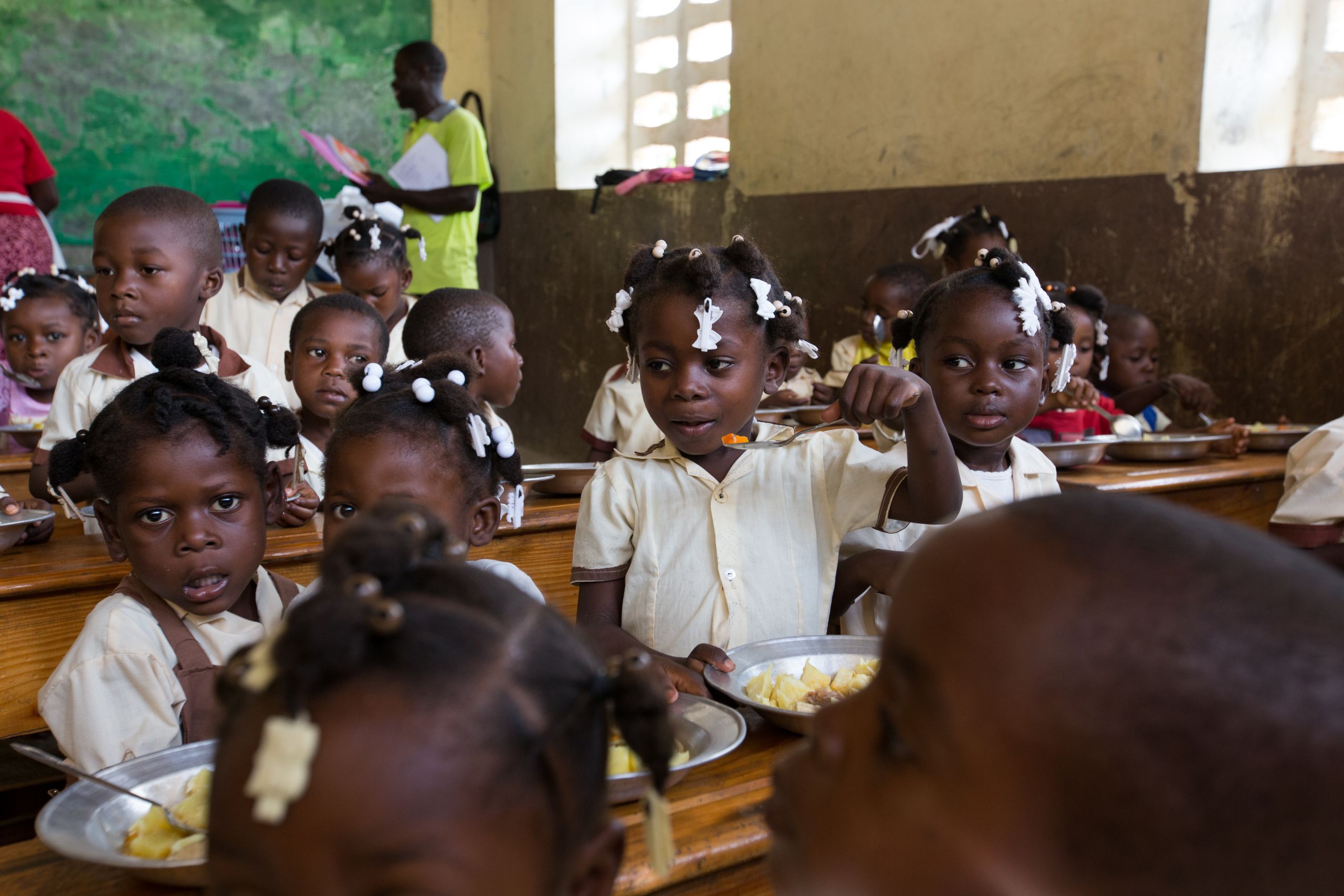 Purchase from local producers
In addition to the children and the canteen operators, the community also benefits from this initiative because the rice and the fruit and vegetables in the canteens are produced by local smallholders, who can thus sell their produce locally and save themselves the long journey to the market. «This integrated approach is a local innovation and helps strengthen the project's impact,» explains Marie-Jeanne Hautbois, HEKS/EPER Country Director in Haiti. «We mobilize the community by asking them to lead the initiative, to work together in mutual agreement and to let others participate, creating a positive, self-reinforcing cycle.»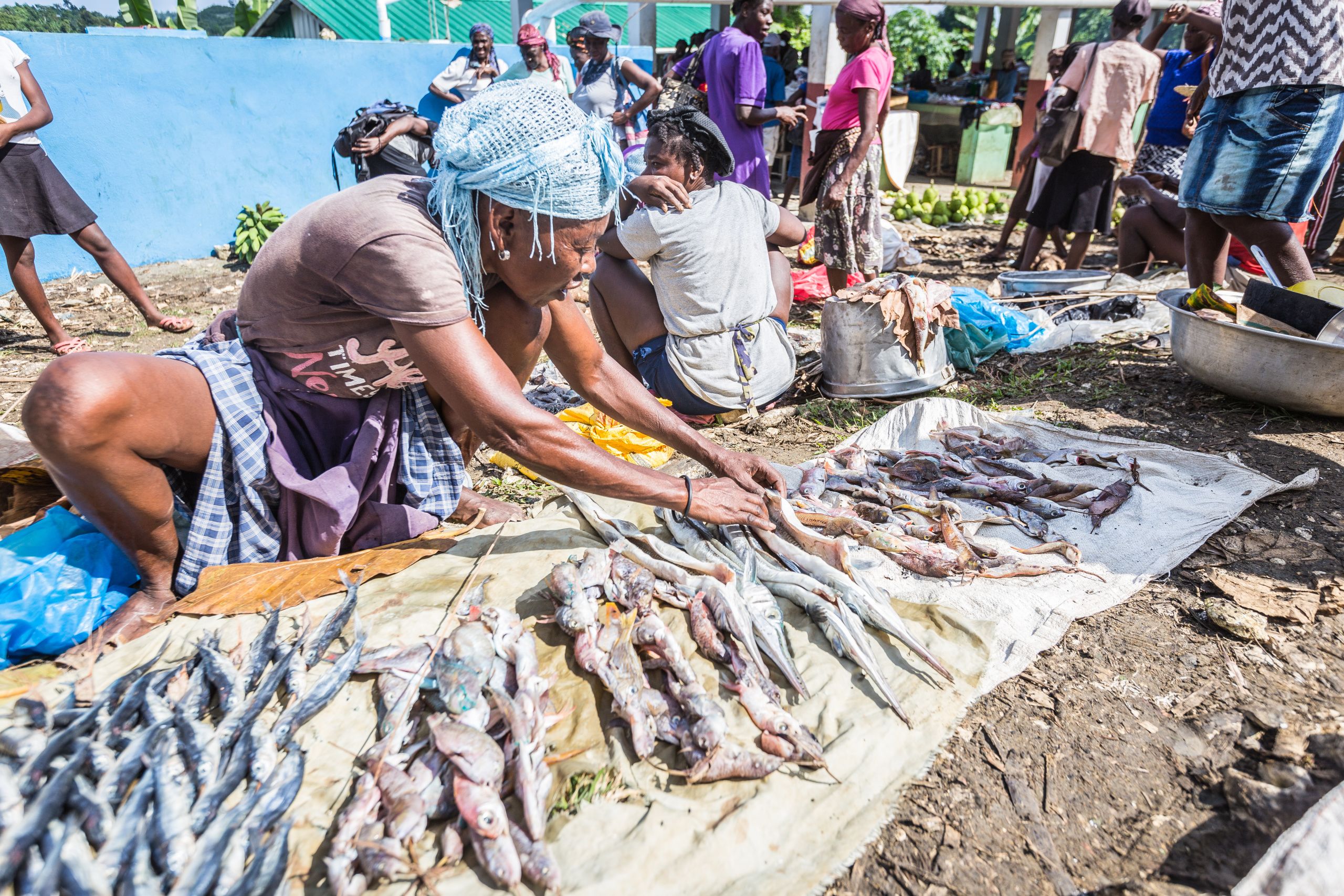 Parents form a management committee
A canteen management committee, made up of parents, liaises between the school, canteen operators and the partner organizations. The five-member committee monitors the quality of the food and the parents' daily financial contributions on a regular basis. It also promotes food procurement by the operators from smallholders and local markets. Filias Vanel is one of these local farmers. His rice has already been harvested, but still needs to be cooked and hulled twice. This is a lot of work, but the HEKS/EPER project also aims to promote the cultivation and sale of local rice, which is grown here without the use of pesticides. The canteens should not buy the imported rice that floods the market in Haiti and undermines local agriculture.
«Thanks to my work as a canteen operator, I can pay for school for my children and I was able to buy a goat. We eat better today, which is good for the health of the children and the whole family. It also protects us from diseases.»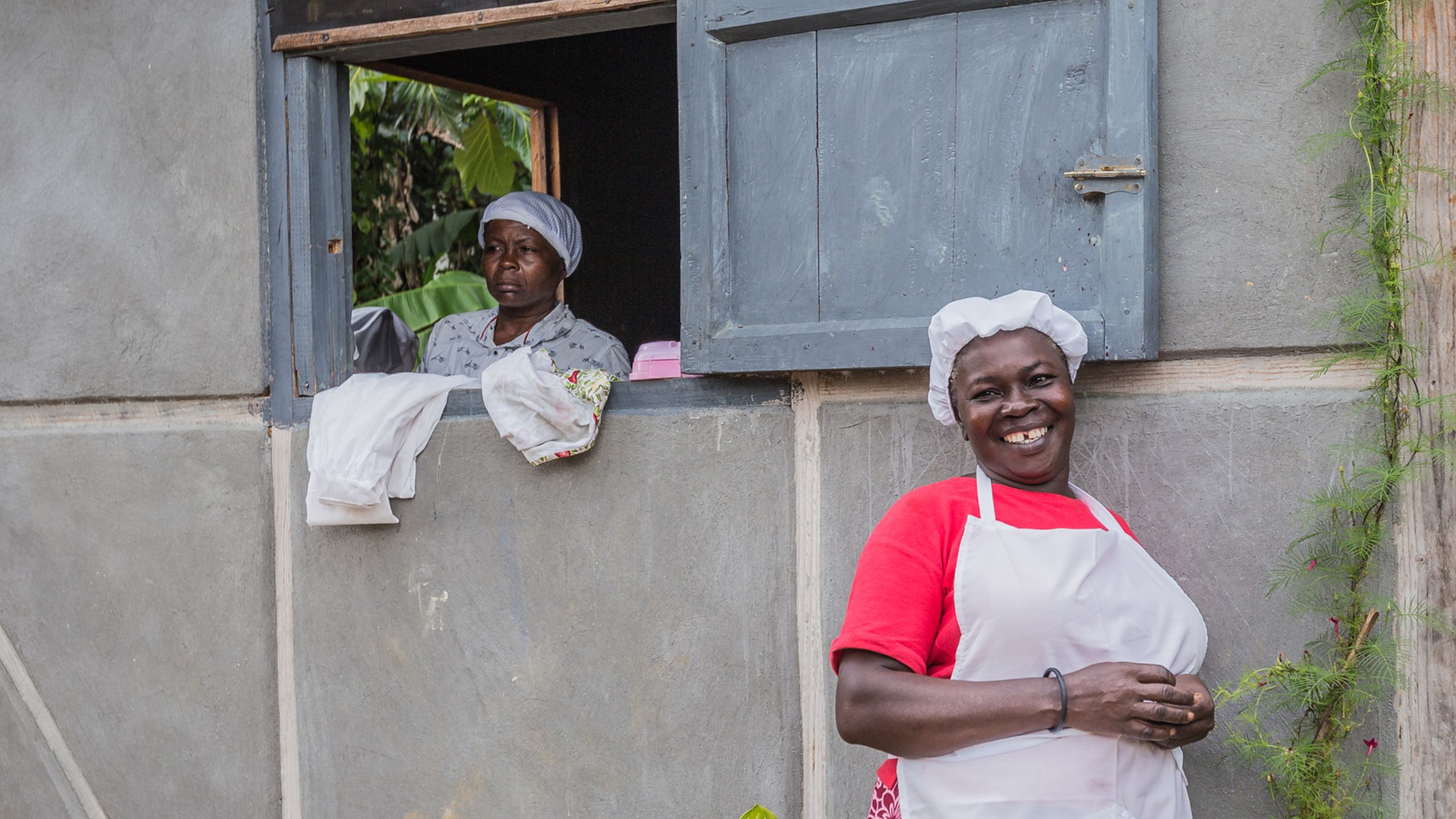 Self-governed and autonomous
The project aims at building a completely self-managed school feeding model. The management committee is working with project staff to find solutions. Financial participation by parents is required, but is a major challenge. Marie-Jeanne explains why: «Following the logic of sustainable development in a country in constant crisis is difficult. Due to the current blockade of the country, the smallholder families of Grand'Anse are in a difficult situation because they cannot sell their products in the capital. It will therefore take some time and require further project support before the canteens can operate independently.» However, he said, that is the goal, apart from feeding 3,500 students every day.